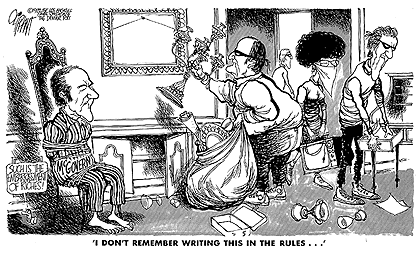 July 1972
McGovern being robbed by Muskie, Humphrey, and Chisolm
In 1972 the Democratic Party instituted the "McGovern Rules" which sought to guarantee representation to women and minorities and thus insure a large number of first-time convention delegates. Challenges to several delegations, and Humphrey's challenge to the "winner-take-all" rule in California, prompted McGovern to react with hyperbole. He told a reporter, "There will never be a case in American politics of such a naked power grab . . . ."
Courtesy of Pat Oliphant and the Susan Conway Gallery of Washington, D.C.
See an enlargement of the cartoon above or go to the next cartoon.

CONTENTS: Introduction - About the Foundation - The Founder
The Next Generation - Picture Scrapbook - Oliphant Cartoons
Remembrances - Links to Resources - Contact Us
Copyright ©2000, The Edmund S. Muskie Foundation. All Rights Reserved.