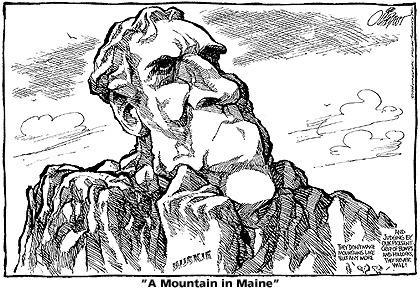 March 28, 1996
"A Mountain in Maine"
Although Oliphant's cartoons typically illustrate the political elements of Muskie's career -- as political cartoons must -- the stature Muskie earned through his work as a legislator and a statesman is captured in the final Muskie cartoon, drawn to commemorate his death in March, 1996.
Courtesy of Pat Oliphant and United Press Syndicate.
See an enlargement of the cartoon above.

CONTENTS: Introduction - About the Foundation - The Founder
The Next Generation - Picture Scrapbook - Oliphant Cartoons
Remembrances - Links to Resources - Contact Us
Copyright ©2000, The Edmund S. Muskie Foundation. All Rights Reserved.