MUSKIE WITHOUT TEARS
Reflections on the 1972 presidential campaign.
By Herbert Hadad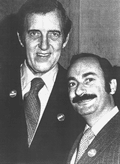 IT DISTURBED ME, this business with the shoes. I had turned my life upside down to join the Muskie for President campaign. I had left a great job and a failed marriage. I had moved from Greenwich Village to Washington. And now, on my first flight with Ed Muskie on a private jet, I watched appalled as another aide kneeled before the senator, who was slumped straight-legged in his seat, and peeled off his loafers. It seemed an act of fealty so demeaning, so un-American, that I vowed never to do it or anything like it.
The plane set down in New York and we were put up at the Plaza Hotel with room service and a view of Central Park. I had given my candidate a joke to use at a Liberal Party dinner that night. My joke poked fun at the Republican administration and its attorney general, John Mitchell, who saw danger and anarchy in every street march or student movement. It went like this: "Reporter: 'Mr. Mitchell, what do you think of the Indianapolis 500?' Mitchell: 'They're all guilty!'"
The next morning, the New York Times reported that another dinner speaker, New York Mayor John Lindsay, had complained to his staff, "How come Ed Muskie was funnier than me?" I started to feel a whole lot better about my new existence. The campaign swing continued to Boston and a speech at Brandeis University and then back to Washington.
My prior experience in politics had amounted to telling a very small, intensely loyal, and happily insane group of friends at Northeastern that I had no desire to run for the campus office then called "Mayor of Huntington Avenue," even after they draped a banner across the entrance of Hayden Hall, renaming it Hadad Hall.
But in the exhilarating days of late 1971 and early 1972, the Richard Nixon White House anguished and fretted over the coming national election and the bitter antagonism to its support of the Vietnam War, Senator Edmund Sixtus Muskie of Maine campaigned as the formidable front-runner for the Democratic Party's nomination and Nixon's likely opponent, and I was Muskie's deputy press secretary.
It was because of my time at Northeastern, particularly my tie to classmate Richard H. Stewart, that I was catapulted from earnest effort as a writer in New York to the feverish pitch of a presidential campaign. At N.U., I followed Stewart to the Boston Globe. As a co-op copyboy I later served as a Globe reporter under City Editor Stewart, who was recruited by the Muskie campaign after covering Congress and the White House to become its press secretary. And it was Stewart who called me one morning at Sesame Street in New York, where I was writing speeches and helping publicize the fledgling show, to ask if I had any interest in joining the campaign.
My Sesame Street colleagues threw a dinner at a Chinese restaurant on Upper Broadway in Manhattan to wish me well and to be remembered in the event that I became powerful. A plane ride later, I was immersed in the campaign hurly-burly.
"What will you do if Muskie wins?" people asked. As hard as I was working for my man, I was not so foolish as to pin my career on a Muskie victory. "Demand a recount," I joked. The real answer was that I would probably be offered the job of director of communications, complete with a cubbyhole in the White House, while Stewart would become the presidential press secretary.
"We're equals," Stewart told me my first day on the job, "only I'm slightly more equal." Second only to the excitement of taking part in a piece of history-making was working with Stewart himself. He had manic energy and flinty honesty and a genius for entertaining. I watched amazed one day as he charmed a roomful of reporters and television correspondents, who were grumbling over Muskie's tardiness, by putting on a one-man TV quiz show and wrapping it up with an imitation of band leader Clyde McCoy's "Wabash Blues," complete with an authentic a cappella rendition of a muted horn.
While the Nixon team plotted and carried out its "dirty tricks" to undermine opponents -- behavior that would culminate in Nixon's resignation in 1974 -- the entire Muskie campaign was oblivious. My introduction to Muskie was itself evidence of his trusting nature. I had hired on without meeting the candidate, so after I began work, Stewart took me to one of the private offices in the Capitol reserved for senior senators.
As we entered, Muskie was involved in explaining his beliefs and hopes for the country to Max Frankel, who was then Washington bureau chief of the New York Times. "It's nice to be aboard, Senator Muskie," I interjected. "Nice to have you aboard," said my new boss, who had us all order lunch while he returned to his animated talk with Frankel.
I ran into Stewart later in the day at campaign headquarters on L Street. "How do you think my meeting went?" I asked.
"It went fine," said Stewart. "Muskie said, 'Who the hell was that?'"
The plan was for Stewart and me to spell each other on the often grueling road trips that took Muskie around the country, though on occassion we both made the campaign swings. When I remained in Washington, it was my job to direct the activities of a twenty-person press office of staff and volunteer workers, write topical material for Muskie, and use my judgment to accept or reject requests for interviews. "I am the American correspondent for Aftenposten, the biggest newspaper in Oslo," said one caller. "Tell him we're not running for office in Norway," Stewart might advise, leaving to me the invention of more polite language. One woman writing for a national shelter magazine acted shocked that I would not set up an immediate interview and then revealed what she seemed certain would be her surefire secret weapon. "Perhaps you don't understand," she said. "I am Mrs. Jim McKay" For those not bowled over, Jim McKay is a television network sportscaster. One of the fascinations of an important national campaign was the people one got to meet. Famous members of the media were suddenly chums. Social invitations abounded. I went to a fabulous party thrown by the Shah of Iran to celebrate the 100th anniversary of his dynastY No one imagined a revolution was brewing. Theodore H. White, the Bostonian who became famous for writing The Making of the President, 1960, started dropping by the office, making notes in little tablets with his collection of sharpened pencils.
George Mitchell, later the Senate majority leader, was Muskie's deputy campaign director. We had New England and Middle East roots in common, which I thought would establish an immediate bond. But he had the demeanor and looks of a humorless priest and when we met he said, "We'll see how good a press secretary you are." I took the remark as a threat and wanted to say, "And we'll see how good a campaign director you are." Later, as a reporter, I needed him, and when he came to the phone it was "Herb" and "George," so I was glad I had concealed my anger.
Accompanying Muskie to Philadelphia, I stood by his side in the office of Frank Rizzo, the tough and controversial mayor of that city, as Rizzo smiled and said, "lt's up to you, Ed. I'll endorse you or not endorse you, whatever helps more." Muskie accepted the support. I sat in on foreign policy sessions with Anthony Lake, who became head of the National Security Council in the Clinton administration. Madeleine Albright, now U.S. ambassador to the United Nations, was on the scene as a Muskie protege. Mark Shields, a mainstay of today's current affairs television, was deputy political director. Senators and governors called in regularly, giving advice, offering help, joining the bandwagon.
The campaign brought both important and superficial changes in my life. I had grown up in Boston, and my New England accent returned. Traveling from Maine and New Hampshire to Missouri, Illinois, and Wisconsin, I saw places I'd never been. Always patriotic, I was imbued with a heightened pride in America, which heightened in me the moment of my mission to help elect its president. Exposure to Muskie convinced me he was the person for the job.
It had been less than four years since the assassinations of Robert Kennedy and Martin Luther King Jr., so the possibility of gun play was not so farfetched one raucous night in Madison, Wisconsin. We knew that some people wanted Muskie to be more outspoken in his opposition to the U.S. involvement in Vietnam, and the generosity of the campaign in serving the crowd free beer was a mistake. As Muskie rose to speak, he was loudly jeered. The audience began hurling plastic beer cups at the podium, in front of which sat Stewart and I.
Muskie was a powerful debater by dint of his legal training and years as a governor and senator. He also had an abiding belief in the fundamentals of fair play. "All right," he bellowed after a while, "I've listened to you and your arguments. You are going to remain quiet now and listen to mine!"
The crowd grew less defiant, but cups continued raining toward the podium. "Dick," I whispered, "what if one of those hands is holding a pistol instead of a beer cup and we see it pointed at Muskie. Are you going to jump up and protect him?"
Long moments passed. He looked at the crowd, looked back at me, and grinned. "Are you out of your mind?" he said.
Though low-key, Muskie had a reputation for what the New York Times called in his obituary earlier this year a "hair-trigger temper." When I joined his campaign from Sesame Street, a reporter wrote that I'd "given up Oscar the Grouch for Edmund the Grouch." I winced at the thought that, in the often fierce swirl of events that make up presidential campaigning, I might soon feel the sting of this legendary anger. But in almost six months of effort in Washington and on the road -- morning, noon, and night; in the public of airport interviews and armory speeches; in the intimacy of airplane cabins and hotel suites -- I never saw it once. It never happened. I came to believe it didn't exist.
Nonetheless, he felt a need to call a press conference in Washington to deal with the issue of his temper. "I am pleased to say," he told the assembled reporters, "that I am able to enjoy the full range of emotions."
Dick Stewart offered a second opinion recently, drastically different from mine. "Someone else said it first but he could intimidate Mount Rushmore. I had yelling, banging-the-table arguments with him. I was the only guy who talked back," he said. "He got mad about little things, about trivia. Decisions of major consequence he weighed very carefully." Muskie's way of closing an argument, Stewart said, was to grab your shoulder and give it a squeeze.
"I'm a New Englander," Muskie would say with a craggy smile. "I'm allowed to be grumpy."
Muskie was funny, a trait not widely known. Relaxing aboard our jet between campaign stops, for example, he was quick to point out my inadequacies. "You're a lousy press secretary," he said. "You don't know how to play poker." His favorite joke: A Texan visiting Maine in his big limousine comes upon a farmer taking a break and pulls up. "How big's your spread?" asks the Texan. "Well," answers the farmer, "it goes from the road here back to the house, and from that stone fence to the stand of birch, about four acres all told." The Texan snorts. "Do you know," he says, "that back home, I get in my limo at dawn and ride all day, and if I'm lucky I get to the other end of my ranch by nightfall." Replies the farmer, "I used to have a car like that."
The story personified Muskie and his sense of humility Although he wielded great authority as a senator and potential president of the United States, he felt that the pompous needed to be deflated.
He applied this humble attitude to public service. And in my estimation, what probably cost him the nomination and the presidency was that he sought the office because of his passion to serve, rather than any fire in the gut for.power.
We drove to Baltimore one night for a debate with other Democratic hopefuls. I had written topical material for him, including some gags that failed to rouse the hall. Driving home to Washington after the lackluster performance, Muskie was not angry or upset with me or his other aides but introspective instead.
"Herb," he said, "I'm not sure I should be doing this. I'm not sure I should be running for president." I was suddenly thrust into the role of comforter and could only assure him we would have many better days and nights.
The White House dirty tricks included the 1972 Watergate incident, of course. Five men trying to burglarize the Democratic National Committee office at the Watergate hotel and office building in Washington were caught and identified as working for the Nixon reelection campaign. Two years later, Nixon became the only U.S. president ever to reslgn.
I was unwittingly connected to another dirty trick. A man I interviewed at Muskie headquarters said he was a down-on-his-luck cabbie from Virginia who admired Senator Muskie. "The kids and I sat down at the kitchen table the other night," he told me with a mountain twang, "and they said that I should volunteer to help get this great man elected."
We gave him a job as a driver. As Muskie and senior aides discussed platforms and strategy and fund-raising in the back seat, the public-spirited Virginian memorized the talk in the front seat, then phoned the information to Nixon's assistants.
By just about any measure, Muskie had a remarkable career. He revitalized the Democratic party in Maine and twice won the statehouse. He was Hubert Humphrey's running mate in the presidential race before mounting his own effort. He was chairman of the Senate Budget Committee, and as chairman of the Subcommittee on Environmental Pollution was so effective that he became known as "Mr. Clean." He spent twenty-two years in the Senate. He was secretary of state. He served on the presidential commission on the Iran-Contra affair, a complicated episode involving the Reagan administration's sale of arms to Iran to obtain the release of hostages in Lebanon and the use of the proceeds to support opponents of the left-wing Sandinista government in Nicaragua. But people remember Muskie's biggest moment as the Day of Tears.
A conservative newspaper in New Hampshire, the Union Leader, had printed an anonymous letter accusing Muskie of using the derogatory word "Canuck" to describe the state's French-Canadian population. The letter later proved to be one of the Nixon White House dirty tricks. The paper also had baited Muskie by writing in an editorial that his wife Jane smoked, drank, and cursed in an "unladylike" way. Muskie went to the Union Leader's offices in Manchester and, standing on a flatbed truck outside, condemned the paper and defended his wife. Furious and upset, he paused at one point and appeared (to some) to choke up.
The phone call to Muskie headquarters came on a Saturday afternoon. It was sunny and mild in Washington, where I was running the press office, but dreary and snowy in Manchester.
"The press is going to say that Muskie cried," Stewart said. "Actually, some of them said it was melting snow and some said it was tears. They got together afterward because they all wanted to report the same thing." Muskie himself said the drops on his face were melting snow.
Stewart and I had great affection for most reporters. This was not their finest hour, although I failed to see the consequence of the story. Here were my famous last words: "Dick, he was defending his wife. Every woman in New Hampshire will vote for him." But Muskie was perceived as weak instead. Although he won the New Hampshire primary and several others, his campaign foundered. Contributions slowed to a trickle. His presidential chances ultimately disappeared.
Stewart holds another view. "It was a good media story, but I don't think it had that much impact," he said. "Muskie said later that the Left and Right had been coopted, and passion and money go together. There was no room for middle-ground passions, and Muskie was a middle man." Senator George McGovern of South Dakota went on to win the Democratic nomination and carry only Massachusetts and the District of Columbia in the general election.
One campaign item that disappeared shortly after the New Hampshire incident was my salary, and I left Washington with a sense of failure, feeling I had let Muskie down. Syndicated columnist Robert Novak wrote that the exit of the "well-liked and capable" Hadad was another blow to Muskie's fortunes. It was Novak's way of taking a swipe at a candidate whose positions he disputed, but I didn't complain because the column also dignified my departure.
I asked Stewart if he felt he had done an outstanding job as press secretary, which was my perception. His modest answer weighed the conflict between being an advocate and a reporter. "I've reflected on that in the past," he said, "and I don't think I benefited the campaign more than someone else might have. There are people in Washington who make a livelihood out of being public relations types. Someone glibber could shave the truth, perhaps. I couldn't compromise me. It was not easy to be one of them and not one of us. I think I was OK as a press secretary."
Muskie and I never met after the campaign. But in the late 1980s, I wrote asking if he would feel comfortable endorsing me for a professional assignment I was seeking. By that time, he already had served as secretary of state and was steeped in investigating the Iran-Contra affair. I had never called him anything but "Senator" or "Mr. Muskie." His letter of recommendation came in two days. It was signed "Ed."
About the shoes. Although the moment had left me shaken, it took only a brief time as a member of the team to realize that neither Muskie nor anyone else expected campaign aides to remove his shoes. I suspect that the act embarrassed Muskie himself, but that he thought making a fuss would only compound the embarrassment. For the one who did it, it was a gesture of simple affection.
When word came on the radio late last March that Muskie had died two days before his eighty-second birthday in a Washington hospital, I was working at home and alone. The news stunned me, and all these years later I needed someone to talk to. I found Dick Stewart, now living in Hilton Head, South Carolina. We talked, but on the day of the funeral, which was to be held at a church in Maryland, I had been planning to see my son Edward's induction into a fraternity at Lehigh University in Pennsylvania. "You belong with your family," Stewart said. "I'll go up to Bethesda for both of us."
Like Stewart, I have reflected on the campaign and the man. The paradox of Muskie is that he was the candidate the country was only too willing to forget, yet on innumerable occasions people from all walks of life have told me they miss him and are sorry history denied them the chance to vote for him.
Twenty-five years ago we were at war in Vietnam and divided at home. Muskie was going to be the kindly, wise, and decent Maine country lawmaker who would emerge from the political pack to help a nation heal. At the time, we greatly needed such a president. We still do.

This article first appeared in November, 1996, in Northeastern University Magazine, where Herbert Hadad is an alumnus.

CONTENTS: Introduction - About the Foundation - The Founder
The Next Generation - Picture Scrapbook - Oliphant Cartoons
Remembrances - Links to Resources - Contact Us
Copyright ©2000, The Edmund S. Muskie Foundation. All Rights Reserved.