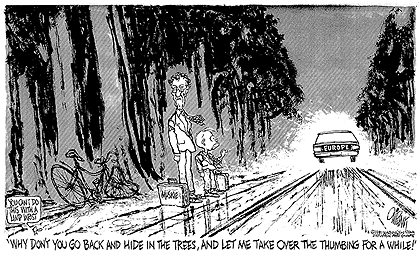 May 12, 1980
Muskie and Carter thumbing a ride to Europe
President Carter had instituted a series of "get tough" foreign policy initiatives in response to the Iran hostage taking and Soviet intervention in Afghanistan. Despite misgivings, on April 22, 1980, NATO governments agreed to consider sanctions against Iran as a way to help stave off a U.S. military response. Two days later, on April 24, Carter launched the Desert One mission. As the new Secretary of State took office, Carter's credibility in NATO was rapidly eroding.
Courtesy of Pat Oliphant and the Susan Conway Gallery of Washington, D.C.
See an enlargement of the cartoon above or go to the next cartoon.

CONTENTS: Introduction - About the Foundation - The Founder
The Next Generation - Picture Scrapbook - Oliphant Cartoons
Remembrances - Links to Resources - Contact Us
Copyright ©2000, The Edmund S. Muskie Foundation. All Rights Reserved.