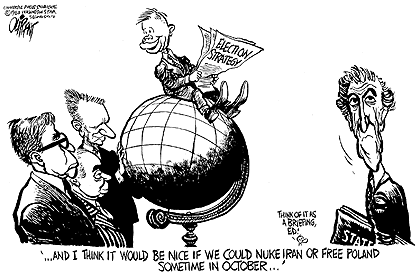 1980
Carter sitting on the globe
Carter never regained the political momentum he had surrendered by adopting the "Rose Garden" strategy -- which was designed to convey the impression that Carter was too busy to campaign for reelection. The strategy was abandoned when Muskie became Secretary of State and the Presidents focus on the campaign barely strayed thereafter, despite the long foreign policy agenda. The reference to freeing Poland harks back to a 1976 Carter-Ford presidential debate in which former President Ford declared that Poland was a "free" country.
Courtesy of Pat Oliphant and the Susan Conway Gallery of Washington, D.C.
See an enlargement of the cartoon above or go to the next cartoon.

CONTENTS: Introduction - About the Foundation - The Founder
The Next Generation - Picture Scrapbook - Oliphant Cartoons
Remembrances - Links to Resources - Contact Us
Copyright ©2000, The Edmund S. Muskie Foundation. All Rights Reserved.