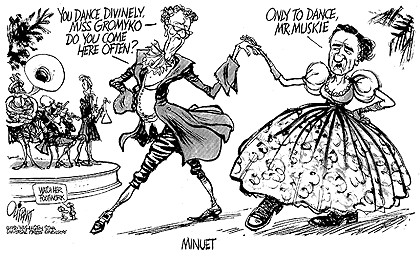 May 19, 1980
Muskie dancing with Gromyko
After the Soviet invasion of Afghanistan in 1980, President Carter imposed a virtual embargo on all U.S.-Soviet contacts. By May, 1980, when Muskie met with Soviet Foreign Minister Gromyko in Vienna, Muskie characterized the talks as merely "a diplomatic minuet as we each recite our reactions to the other's actions over the past six to eight months." Oliphant's cartoon exactly catches that characterization.
Courtesy of Pat Oliphant and the Susan Conway Gallery of Washington, D.C.
See an enlargement of the cartoon above or go to the next cartoon.

CONTENTS: Introduction - About the Foundation - The Founder
The Next Generation - Picture Scrapbook - Oliphant Cartoons
Remembrances - Links to Resources - Contact Us
Copyright ©2000, The Edmund S. Muskie Foundation. All Rights Reserved.