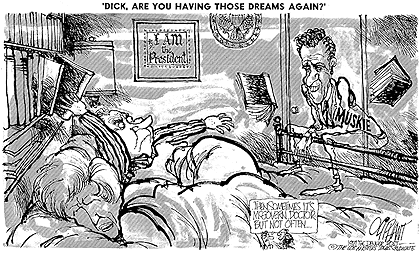 January 27, 1971
Nixon facing the ghost of Muskie at the end of his bed
A hard-edged and unsuccessful effort by Nixon to gain an "ideological majority" in the Senate in 1970 climaxed on election eve. Muskie's calm, reasoned broadcast speech compared favorably to television images of a shrill Nixon ranting at antiwar demonstrators. Muskie appeared increasingly 'presidential' in contrast to Nixon. By December 1970, their approval ratings were even amid broad speculation that Nixon's would be a one-term presidency.
Courtesy of Pat Oliphant and the Susan Conway Gallery of Washington, D.C.
See an enlargement of the cartoon above or go to the next cartoon.

CONTENTS: Introduction - About the Foundation - The Founder
The Next Generation - Picture Scrapbook - Oliphant Cartoons
Remembrances - Links to Resources - Contact Us
Copyright ©2000, The Edmund S. Muskie Foundation. All Rights Reserved.