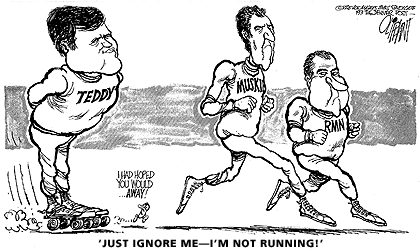 December 5, 1971
Kennedy skates by Muskie and Nixon
During 1971, the crowded Democratic field threatened to overwhelm the nominating process. Rank and file voters reacted by telling pollsters they would just as soon vote for another Kennedy. Senator Kennedy continued to assert that he was not a candidate while his supporters fueled a series of press stories.
Courtesy of Pat Oliphant and the Susan Conway Gallery of Washington, D.C.
See an enlargement of the cartoon above or go to the next cartoon.

CONTENTS: Introduction - About the Foundation - The Founder
The Next Generation - Picture Scrapbook - Oliphant Cartoons
Remembrances - Links to Resources - Contact Us
Copyright ©2000, The Edmund S. Muskie Foundation. All Rights Reserved.