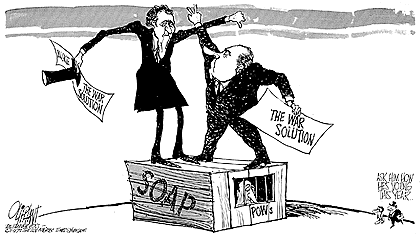 February 4, 1972
Muskie and Nixon on dueling soapboxes with POWs
Throughout Nixon's first term, the plight of POWs in Vietnam was the Administration's counterargument to antiwar opponents. By 1972, public cynicism about Nixon's plans to "end the war" was widespread. On January 25, 1972, Nixon outlined a new political settlement. Muskie called it a "welcome initiative" while offering his own proposals. Nixon's proposal was, of course, rejected by Hanoi. Oliphant illustrates the sense of exhaustion which gripped many Americans about the dueling proposals and the war itself.
Courtesy of Pat Oliphant and the Susan Conway Gallery of Washington, D.C.
See an enlargement of the cartoon above or go to the next cartoon.

CONTENTS: Introduction - About the Foundation - The Founder
The Next Generation - Picture Scrapbook - Oliphant Cartoons
Remembrances - Links to Resources - Contact Us
Copyright ©2000, The Edmund S. Muskie Foundation. All Rights Reserved.