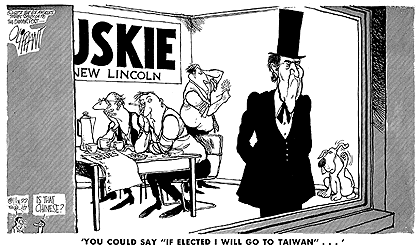 February 29, 1972
"If elected I will go to Taiwan"
With the Peoples' Republic of China pursuing normalized relations with the world community, Nixon's National Security Advisor, Henry Kissinger, secretly visited Peking (Beijing) in October, and arranged a visit for the President. The secret diplomacy and presidential visit created a sensation. Nixon himself joked that the China visit was a great TV pilot and ought to be made into a series. Naturally, the China visit virtually preempted the other news, particularly news of Democratic presidential candidates.
Courtesy of Pat Oliphant and the Susan Conway Gallery of Washington, D.C.
See an enlargement of the cartoon above or go to the next cartoon.

CONTENTS: Introduction - About the Foundation - The Founder
The Next Generation - Picture Scrapbook - Oliphant Cartoons
Remembrances - Links to Resources - Contact Us
Copyright ©2000, The Edmund S. Muskie Foundation. All Rights Reserved.