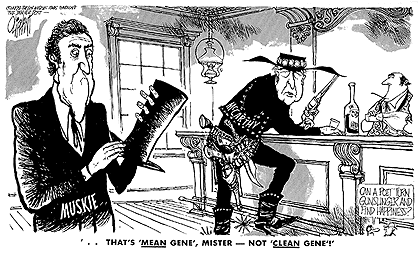 March 13, 1972
McCarthy shoots holes in Muskie's hat
Hours after Muskie made his candidacy official, former Senator McCarthy announced he intended to hold Muskie "accountable" for his stance on the Vietnam War before 1968 and his role in the 1968 convention. Observers speculated McCarthy was seeking revenge. His unexpectedly strong showing in the 1968 New Hampshire primary forced President Johnson not to seek reelection, but McCarthy's candidacy faded.
Courtesy of Pat Oliphant and the Susan Conway Gallery of Washington, D.C.
See an enlargement of the cartoon above or go to the next cartoon.

CONTENTS: Introduction - About the Foundation - The Founder
The Next Generation - Picture Scrapbook - Oliphant Cartoons
Remembrances - Links to Resources - Contact Us
Copyright ©2000, The Edmund S. Muskie Foundation. All Rights Reserved.