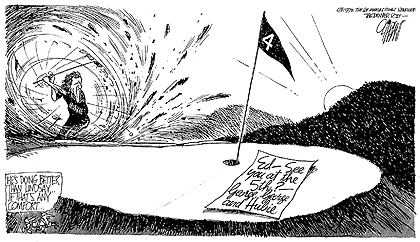 April 5, 1972
Muskie in golf course sand trap
With Muskie the front-runner, the early Democratic primaries in 1972 amounted to a "stop-Muskie" effort. By the time of the Wisconsin primary, George McGovern, George Wallace, and Hubert Humphrey had largely succeeded. Muskie finished a disappointing fourth. The setting sun in Oliphant's cartoon was prophetic: Twenty-one days later, after the Pennsylvania primary, Muskie officially announced his withdrawal.
Courtesy of Pat Oliphant and the Susan Conway Gallery of Washington, D.C.
See an enlargement of the cartoon above or go to the next cartoon.

CONTENTS: Introduction - About the Foundation - The Founder
The Next Generation - Picture Scrapbook - Oliphant Cartoons
Remembrances - Links to Resources - Contact Us
Copyright ©2000, The Edmund S. Muskie Foundation. All Rights Reserved.