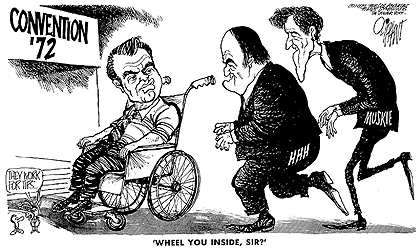 July 6, 1972
Humphrey and Muskie offer to wheel Wallace into the convention
As the convention opened, McGovern's delegate votes fell short of assuring him a first-ballot victory. the attempt on George Wallace's life in May had left Wallace physically crippled, but he still controlled more than 300 delegate votes. Concerns about McGovern's electability and opposition from the AFL-CIO's George Meany led to speculation that other candidates, including Humphrey and Muskie, would seek a deal with Wallace delegates to block McGovern.
Courtesy of Pat Oliphant and the Susan Conway Gallery of Washington, D.C.
See an enlargement of the cartoon above or go to the next cartoon.

CONTENTS: Introduction - About the Foundation - The Founder
The Next Generation - Picture Scrapbook - Oliphant Cartoons
Remembrances - Links to Resources - Contact Us
Copyright ©2000, The Edmund S. Muskie Foundation. All Rights Reserved.